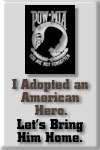 Name: Richard Abbot Kibbey
Rank/Branch: O3/US Air Force
Unit:
Date of Birth: 02 June 1934
Home City of Record: Delmar NY
Date of Loss: 06 February 1967
Country of Loss: North Vietnam
Loss Coordinates: 174600N 1054800E (WE847643)
Status (in 1973): Missing in Action
Category: 2
Acft/Vehicle/Ground: HH3E
Other Personnel in Incident: Donald J. Hall; Patrick H. Wood; Lucius L. Heiskell (all missing)
Source: Compiled by Homecoming II Project 15 March 1991 from one or more of the following: raw data from U.S. Government agency sources, correspondence with POW/MIA families, published sources, interviews. Copyright 1991 Homecoming II Project.
REMARKS: SYNOPSIS: On February 6, 1967, Capt. Lucius L. Heiskell was a pilot and was flying an O1F aircraft on a visual reconnaissance mission with another O1F when his aircraft was struck by enemy fire forcing him to bail out. His parachute was followed to the ground and voice contact with him indicated that immediate rescue was not feasible due to enemy troops in the area.
Beeper signals continued and later an HH3E helicopter flown by Maj. Patrick H. Wood was dispatched to recover Heiskell. He was at this time located near the border of Laos and North Vietnam about 5 miles from the Mu Gia Pass. Wood's crew that day included Capt. Richard A. Kibbey and SSgt. Donald J. Hall.
Heiskell was hoisted aboard, but as the helicopter was departing the area, it was hit by ground fire causing it to explode and crash. The helicopter pararescueman survived and was treated for burns. The remainder of the crew, Hall, Kibbey and Wood, as well as Heiskell, were not located.
When 591 Americans were released in 1973, the crew of the HH3E was not among them. They were numbered with nearly 3000 Americans who remained missing, prisoner, or unaccounted for at the end of the war.
Since American involvement in Vietnam ended in 1975, over 10,000 reports relating to Americans missing, prisoner, or otherwise unaccounted for in Indochina have been received by the U.S. Government. Many officials, having examined this largely classified information, have reluctantly concluded that many Americans are still alive today, held captive by our long-ago enemy.
Whether Kibbey and the crew of the HH3E survived the crash of their aircraft to be captured is not known. It is not known if they might be among those thought to be still alive today. What is certain, however, is that as long as even one American remains alive, held against his will, we owe him our very best efforts to bring him to freedom.
Richard A. Kibbey was promoted to the rank of Colonel during the period he was maintained "Missing in Action."
Graphics courtesy ofRon Fleischer
Graphics courtesy ofJoni's Patriotic Graphics